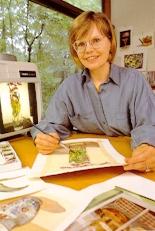 Photo by Keith Weller
A signature member of the National Watercolor Society, as well as an active member of several other artists' societies, Liz Donovan has received numerous awards. Four of her paintings, Yellow Daylily, Gerbera Daisies, Teapot with Gladiola, and Lilies, have been honored with awards of distinction and featured in Rockport Publishers' volumes, The Best of Watercolor, Volume 2, Painting Texture, and Painting Light & Shadow. Her paintings are also included in Rockport Publishers' books Best of Watercolor and In Watercolor: Flowers. Donovan has been named a finalist in competitions of The Artist's Magazine and American Artist.
Donovan wrote the book Painting Sunlit Still Lifes in Watercolor published in 1997 by North Light Books.
"Liz Donovan's watercolor still lives are infused with the sparkle, color and movement of sunlight. Fabric and lace, glass and silver, and fruit and flowers are captured along with warm sunlit patterns and luminous shadows. She paints in a realistic, yet exciting and colorful style, full of wonderful detail. More than a collection of beautiful objects, Donovan's paintings capture a glorious moment of light." -- North Light Books
A resident of Maryland and Florida, Donovan studied graphic design and fine art at the Corcoran School of Art and Maryland Institute of Art. She has also studied oil painting and drawing with David Zuccarini and has taken the workshops of Don Stone, Jeanne Dobie and Alex Powers.
For links to some of these artists and organizations, or to purchase books online through Barnes and Noble, see Liz Donovan's Links Page.
Copyright © 1997-2009 Liz Donovan
Return to

Main Page